Three reasons to love the Jamaica Market during Day of the Dead season
October is always a special time of the year to be in Mexico. As the country eagerly prepares for Day of the Dead, the markets come to life stocked with bright, colourful adornments such as sugar skulls, papel picado, candles and tiny skeleton figurines, everything one would need to set up for this special holiday. Every market offers items for this celebration, but Mexico City's Jamaica Market is one of the best places to visit if you are looking for variety and great prices. There are many reasons to love this Market around this time of the year. Here are my three favorite reasons why:
1.The pan de muerto baking on the sidewalk
Pan de muerto, a delicious sugar-dusted sweet roll, is one of the main reasons everyone loves Day of the Dead. In Mexico City the most common type of pan de muerto is flavored with orange zest or orange blossom, but there are also many other varieties available across the country. Because the Jamaica Market becomes so popular at this time of the year, many vendors come from different parts of the city to set up their stands around this market, literally on the sidewalks. That is the case of Panadería Manolo. Manolo, the owner, has been running a bakery for 30 years in Iztacalco (about two and a half miles from the Jamaica Market), but every year, with the help of his nephews, he sets up his ovens on the sidewalks of this mercado to offer his own fresh pan de muerto. He explains that this is a great business opportunity that can't be missed. And what makes his bread particularly special is the family recipe that he uses that has adds an extra touch of cinnamon.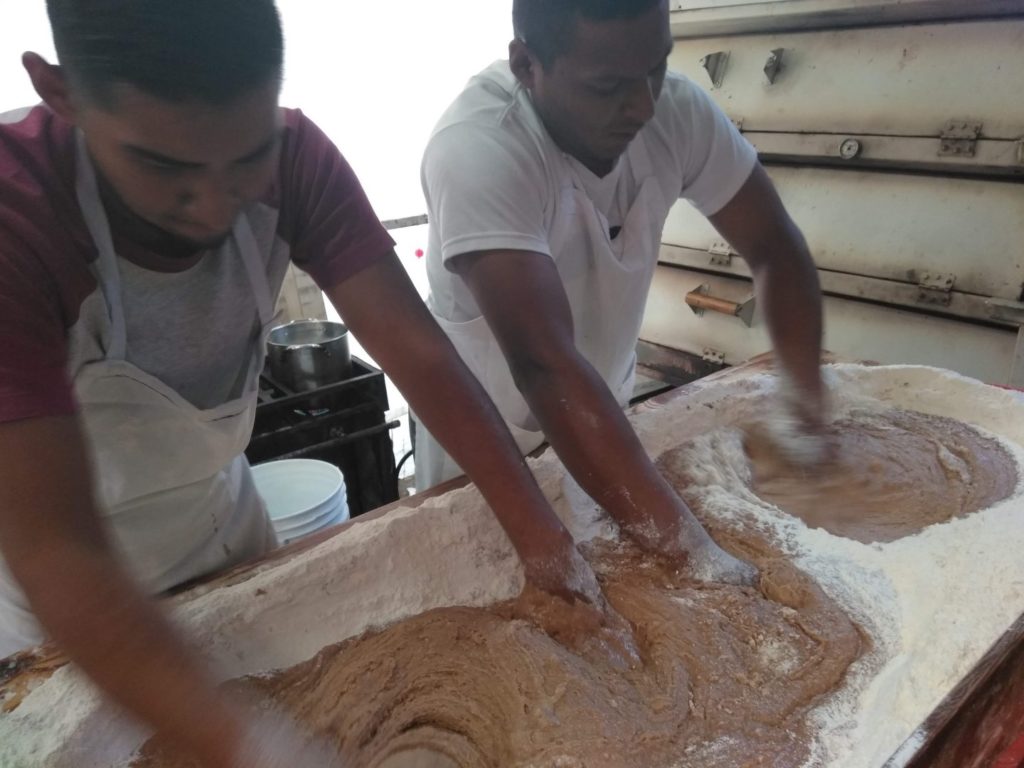 2.The flowers
The Jamaica Market is also known as the "flower market" of the city, since it has a whole section dedicated to flowers only, that is open 24/7 every day of the year. Vendors sell seasonal flowers all year round, but the special ones sold for Day of the Dead are Marigolds, known as Cempasúchil in Spanish, and a deep purply-red flower called Terciopelo, which in Spanish means "Velvet".  At this time of year, both of these flowers can be found in abundance along the flower halls of the market. At this stand, Sebastian helps his grandmother after school while he learns the family business. They have been in that spot since the market opened in 1957. They usually sell flowers that they get from Xochimilco, but during this season, they get their flowers specially delivered from Atlixco, Puebla.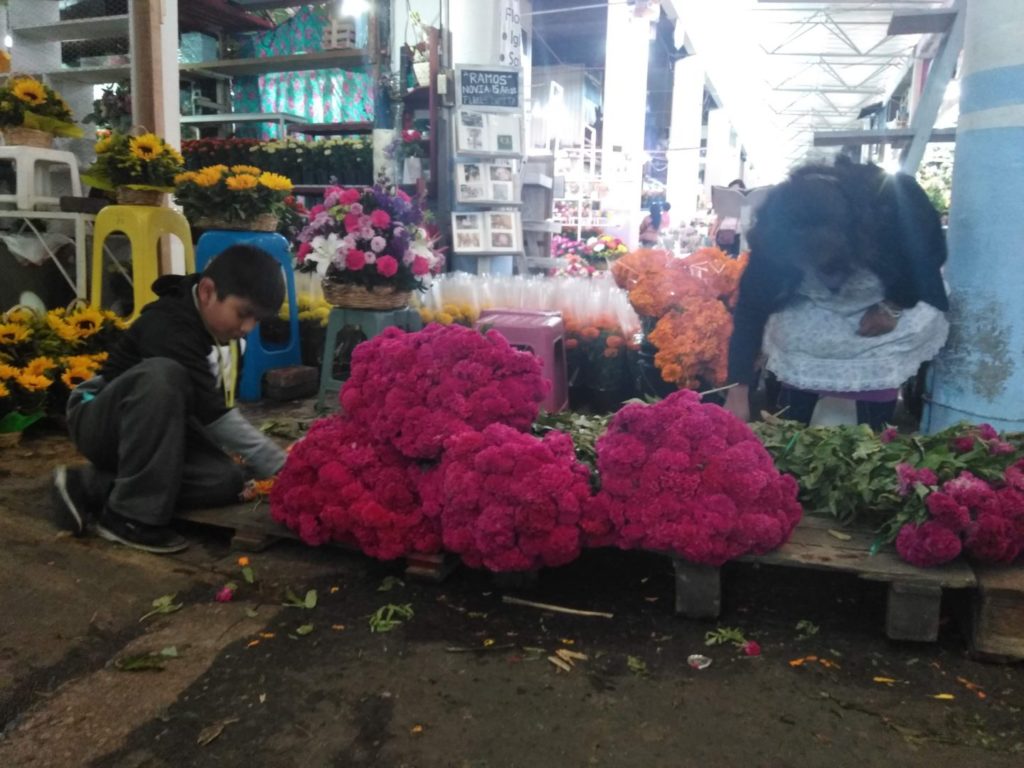 3.The sugary figurines (not just the skulls!)
Yes, sugar skulls are very popular, but they are not the only figurine shapes you can find. Vendors also sell "Alfeñiques", which are confections molded from sugarpaste. These are bought in Puebla, where different workshops start making these months in advance to be able to fulfill the demand. These figurines come in many different types of representations. Some represent traditional mexican dishes such as chicken with mole, tamales or pan dulce platters (sweet bread), while others may come in the form of people dressed up as specific occupations such as teachers, dancers and cooks, to name a few. My personal favorite figurine is a coffin that comes with a string attached that you can pull on, which makes a skeleton pop out!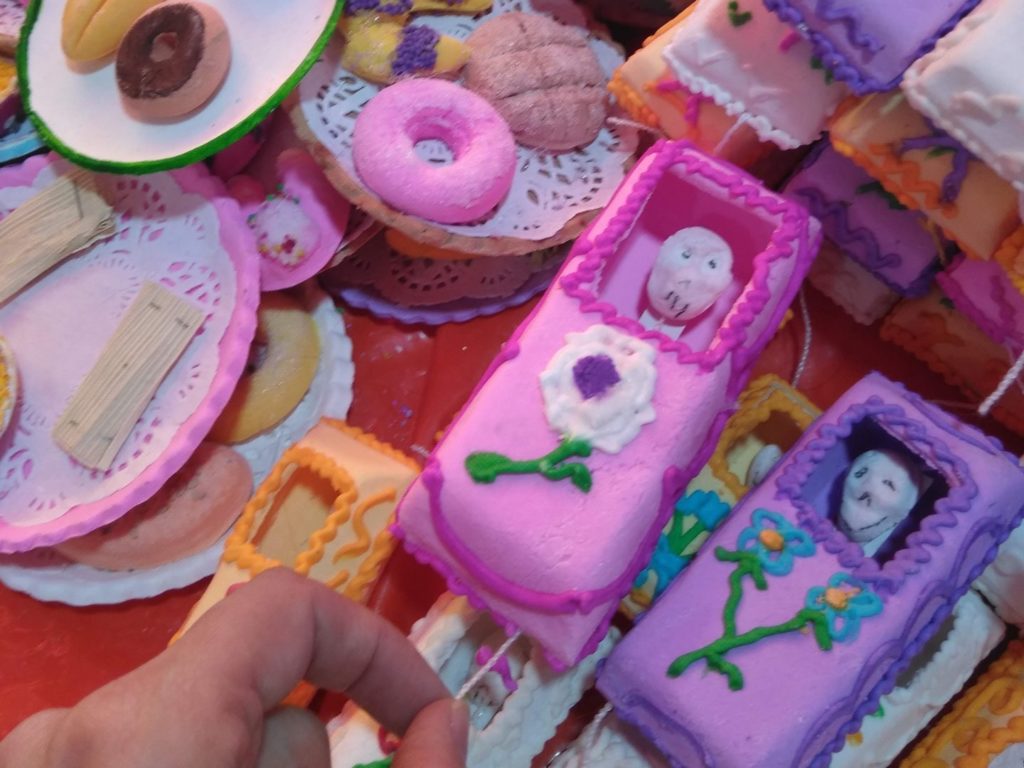 Visiting the Jamaica Market is an incredible experience that will be sure to stimulate all of your senses. Every year around this time, Eat Mexico offers a special seasonal tour named Day of the Dead at the Mercado Jamaica in honor of this traditional holiday, so don't miss the chance to join us if you are in Mexico City!
Ariane Ruiz is Operations Coordinator with Eat Mexico and one of our culinary guides.