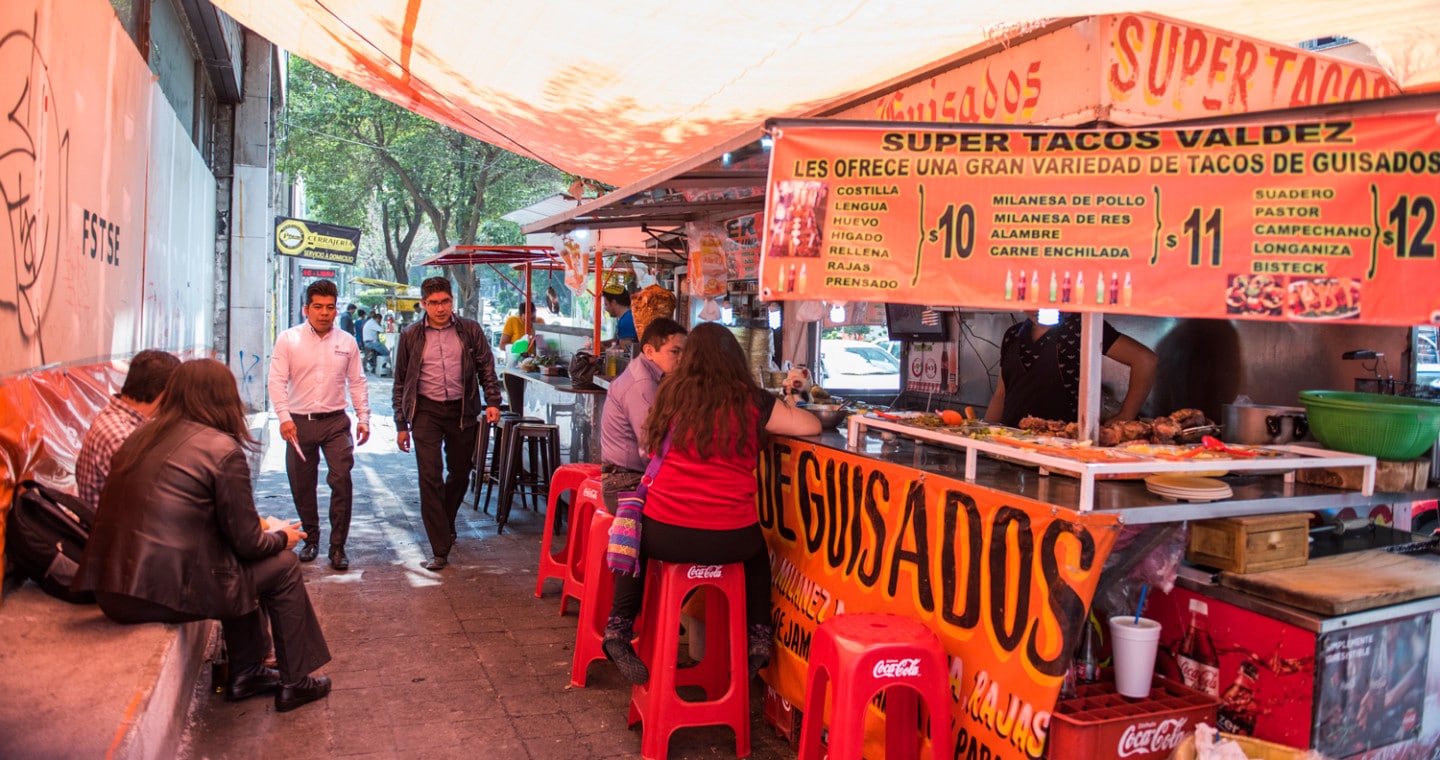 In a city of 22 million, where do most locals eat?
In Mexico City, it's the street stands. The market stalls. The small, homestyle restaurants known as fondas.
Since 2010, Eat Mexico, the first street food tour operator in Mexico City, has been sharing the unique flavors that fuel millions of Mexicans on a daily basis. These are dishes that locals grow up eating, usually cooked by the same family-owned stand for decades.
On each tour, we visit street stands, markets and fondas that have been personally selected by our founder, Lesley Téllez, and our local Mexico City-born guides. Unlike other tour companies, we don't take kickbacks or coupons from our vendors. We choose the stops based on the deliciousness of the food and each item's importance in the Mexican culinary canon.
On our tours, you'll get a complete culinary and cultural experience through five distinct routes: Street Food, Roma & Condesa Taco Crawl, the Gourmet San Juan Market & Street Food Tour, A Journey Through La Merced, and Late Night Tacos and Mezcal. In Puebla, only a two-hour bus ride away, we offer an inside look at the city's food culture beyond mole. Whichever route you decide, you'll taste freshly prepared foods from stands and fondas, learn how each item is prepared, and see the history, importance and role each food item has in the local culture.
At the end of the day, you'll be full and happy both in belly and in mind having tasted the best Mexico City and Puebla has to offer, complete with the stories to share with friends back home. And, if you want to truly bring these flavours back home, check out Lesley's Eat Mexico cookbook, published in 2015 here.
OUR STAFF
LESLEY TÉLLEZ, EAT MEXICO FOUNDER & OWNER
Lesley is a passionate promoter of Mexican cuisine and culture. A Southern California native and third-generation Mexican-American, Lesley co-founded Eat Mexico in 2010 as a way to introduce tourists to Mexico City's fantastic street food and market scene. In 2011, Lesley received a diploma in Especialización en Gastronomía Mexicana (Specialization in Mexican Gastronomy) from the Escuela de Gastronomía Mexicana, Mexico City's premier heritage cooking school. She has taken dozens of additional cooking courses during her four-year stint in Mexico City, on topics ranging from pre-hispanic tamales to Day of the Dead foods and traditions.
In addition to running Eat Mexico, Lesley is a cookbook author. Her book, Eat Mexico: Recipes from Mexico City's Streets, Markets and Fondas, was published in 2015 by Kyle Books, with 100+ recipes inspired directly by the tours and her time living in Mexico. Eat Mexico was named a top cookbook of 2015 by Food 52, Leite's Culinaria, Edible Feast and Yahoo! Food. Lesley's essays and articles about Mexico and Mexican food have appeared in The New York Times, Saveur, Food & Wine, American Way Magazine and the Los Angeles Times, among other publications. For five years, she blogged about Mexican food and Mexican culture at her award-winning blog The Mija Chronicles.
Lesley is also a member of the International Association of Culinary Professionals.
Favorite street food: Tlacoyos, with all the fixin's and a spoonful of green salsa on top.
Her bridge into the wonderful word of street snacks: Pig uterus tacos.
Mezcal, tequila or pulque? Mezcal all the way. It's multi-layered, and I love that with good artisan mezcales you can taste the actual agave it came from.
CHRISTINE MORAVEC, ASSISTANT DIRECTOR OF OPERATIONS
Christine skillfully manages all parts of Eat Mexico operations, working with our staff to maintain excellence in our tours and develop products that showcase the richness of Mexican gastronomy.
Originally from Canada and raised partially in Spain, Christine speaks fluent Spanish and studied Hospitality and Tourism Management at Ryerson University in Toronto. She was first introduced to Mexico's amazing food and culture during an exchange in northern Mexico. In the following years, Christine traveled through Southeast Asia and Europe, eventually landing in South America where she worked as a tour guide for several years. Once in Mexico City, Christine instantly fell in love with the place which she now calls home.
Favorite Street Food: Definitely torta de chilaquiles and esquites, both of which I could eat on a daily basis.
One of her favorite things about Mexico City: its cultural diversity and liveliness. There is just so much to do and explore in Mexico City regardless of what your preferences are.
EAT MEXICO GUIDES
All of Eat Mexico's tour guides speak fluent English and have a passion for food. Here's a little bit more about each of them.
UBISH YAREN
Ubish Yaren grew up in Mexico City's El Parque neighborhood, just a short walk from the famed Mercado de la Merced. He has a Diploma from the Escuela de Gastronomía Mexicana, and as sous chef at the school, he traveled to several countries promoting Mexican cuisine and cooking Mexican meals for up to 400 people. (Ask him about the time he was stranded in New Zealand for 30 days.) When he's not cooking or leading around clients on our walking tours, Ubish teaches cooking classes to children and owns his own catering company.
Favorite street food: Any taco… I love tacos.
Last thing he cooked: Rice and beans, nothing fancy.
One thing I like most about Mexican food is: The variety. Tacos can be made with the same ingredients and every time they taste a little bit different.
What clients have said about Ubish:
"Ubish is a former chef, so he knows what he's talking about, and he knows the backstory, too."
"Our tour guide Ubish was amazing! He was knowledgeable, fun and really patient when we wanted to stop for photos. He has vast knowledge of food and Mexican history and really kept us engaged the whole time."
"An asset to an already extraordinary team."
ANAIS MARTINEZ
Born and raised in Mexico City, Anais studied gastronomy (specializing in Mexican food) at the prestigious Universidad del Claustro de Sor Juana in Mexico City's Centro Histórico. After that she moved to Italy to study graphic design. During her time in Europe she tried every food she could find, "from gelato to fish and chips and every single piece of bread in sight." Anais loves music, movies, and anything related to food. When she's not touring, she works behind the scenes with local restaurants to develop menu and design concepts.
Her favorite thing about travel: I'm a keen couchsurfer, so I love getting to know people from all over the world and even cook for them.
Favorite street food: I love fava bean tlacoyos with nopales on top and red salsa.
If you were stranded on a desert island, which Mexican foods would you take with you? Chocolate alegrías: delicious and nutritious.
What clients have said about Anais:
"Her passion for food and Mexico shone and I would recommend her highly."
"Anais was excellent. She knew a lot about food and was very pleasant."
"Anais is such a cool chick. So friendly and engaging, shared really interesting information with us throughout the night, she really made the night out a fun and enjoyable experience."
ADRIAN BECERRIL
Adrian, a Mexico City native, studied gastronomy at the Colegio Superior de Gastronomía. He worked in Mexican kitchens for a year before moving to Seville, Spain to study hospitality. From there he hopscotched around the world, working in kitchens in the Czech Republic and Dubai, and launching a Mexican food concept in Australia. He finally moved back to Mexico City in 2016. When he's not touring, he's working on his next big project: a food truck!
His favorite country he's lived in so far: Obviously Mexico! If I had to choose another one, I'd say Australia. It's so multicultural and the people are so chill. It's not just a country, it's a continent by itself. I just love it. Melbourne is one of the most diverse cities I've seen. There's food everywhere. I think it's the foodie capital of the world.
Favorite street food: Tacos, definitely tacos. But if it's other than that, I'd say Thai street food. There's a soup called Khao Soi that's to die for.
One thing he loves about Mexico City: It's the people. If you are Mexican, it might not seem like it it's true sometimes, but we are so open and friendly and eager to help.
What clients have said about Adrian:
"Adrian is a gem! He went above and beyond to make us happy and is extremely knowledgeable."
"Adrian is fantastic! Soulful, knowledgeable, fun and enthusiastic about the work he is doing. Tuvimos un día maravilloso!"
"I was extremely impressed with Adrian's knowledge. I travel a lot and generally am comfortable in markets and eating street food on my own. …What made this so interesting is that Adrian added so much context and history that I wouldn't have gained the same value walking around myself."
CARLA FAVERIO
Carla was born and raised in the Canary Islands, Spain, and she fell in love with Mexican food while traveling the world. She moved to Mexico permanently six years ago and completed a degree in gastronomy from Mexico City's prestigious Universidad del Claustro de Sor Juana. She worked in French, Japanese, Thai and Mexican kitchens before becoming a tour guide. When she's not touring, Carla does freelance economics consulting (her other love!), and she dances Cuban salsa with a Mexico City-based troupe.
Favorite Street Food: Without a doubt, tlacoyos, with a generous helping of green and red salsa. And fresh alfalfa juice — there is nothing fresher and more energizing than that!
What she loves most about Mexico City: Unbelievable food and active people. It's the perfect mingling that makes Mexico City unique.
Favorite market to visit in town Xochimilco market, it's a truly beautiful and delicious food spot. I am seduced by its aromas and flavors. Fairy tale of plants, flowers, fruits, vegetables, herbs and prepared food.
What clients have said about Carla:
"Carla was fantastic, we had a great time from top to bottom. Since she's not originally from here, she brings a really fresh perspective to the table."
"From specific fruits to different chiles, Carla was able to answer everything we threw at her (and we threw a lot). Her study of gastronomy was definitely showcased."
ALEYN MERCHAND
Aleyn, a Puebla native, bought her first cookbook when she was 12. She's been a fan of cooking and food ever since, particularly when it relates to the traditions of her native city. These days Aleyn likes to explore local markets, seek out new restaurants and food shops, and occasionally try to recreate her favorite restaurant dishes in her own kitchen. Aleyn spent about 10 years of her childhood in Chicago, which accounts for her impeccable English. In her spare time, Aleyn teaches English professionally and enjoys running.
Favorite poblano food: Chalupas! I love them with traditional duo of red or green salsa but I've also tried a scrumptious triad of mole, green pipian and red pipian sprinkled with aged cheese…poblano heaven!
A dish I often cook at home: A poblano stew with zucchini, corn, sliced poblano peppers, squash flowers and pork meat, topped with fresh goat cheese.
My favorite place to relax in Puebla: The pyramid in Cholula. I often jog there from my house and when I reach the top I love the view of the volcanoes and the city…it's breathtaking!
What clients have said about Aleyn:
"Aleyn knew what she was talking about and was enthusiastic and highly engaged."
"Aleyn is wonderful. She did more than let us taste food. A city tour, a history lesson, lots of laughs, and really good food. She is a gem!"
MARIA CALDERÓN
Maria was born and raised steps from  Puebla's La Acocota market. She has a degree in Tourism from Benemérita Universidad Autónoma de Puebla. She lived and worked in the United States and France and says that while she loves international food, she's addicted to her home country's cuisine.  In addition to Spanish, she speaks French, English and a little bit of German.  Maria runs separate city tours in Puebla and also teaches private English and French classes.
Favorite poblano food: Tacos árabes. I could eat them everyday!
Favorite place in Puebla: I used to go downtown with my grandmother when I was a little girl, so it's my favorite place to be.
Mezcal, Tequila or Mexican Microbrew? Tequila straight with salt and lime.
What clients have said about Maria:
"Maria was incredibly knowledgeable about Puebla, about food and about Mexico! She was incredibly friendly, approachable and warm from the moment we met her. We both said that it was like spending the afternoon with a very knowledgeable local friend."
"Maria went above and beyond to make our tour memorable."