An introduction to Mexican salsas
A lot of people have the mistaken idea that salsa is a very specific food: chopped tomatoes, onions, jalapeños and cilantro, eaten with nacho chips. Although that is definitely a salsa (pico de gallo or salsa bandera), salsas can be much more than that.
We're going to focus on what we call salsas de mesa ("table salsas"), the kind you put on your food after it's served. I make this distinction because in spanish, the word salsa is used for any kind of sauce, like béchamel, marinara, etc.
Salsas de mesa are a basic element of Mexican cuisine, we put them on pretty much anything you can think of: tacos, quesadillas, eggs, rice, soup, ceviches and many more items. There are pretty much no rules for making a salsa, you can use tomatoes or tomatillos (or a blend of both), any type of chile you want, and a ton of other aromatics, herbs, and spices. Also, the textures vary a lot. I want to show you a few simple recipes that can give you ideas of the different techniques and flavor profiles you can find in Mexican salsas. We'll start with two versions of green salsa, both made with tomate verde, also known as tomatillo.
Salsa de chile morita (Salsa with chile morita)
This is one of my grandmother's recipes and one of my personal favorite salsas, really simple to make, but incredibly deep and complex in flavors. The main ingredient is the chile morita, a dried, smoked jalapeño. If you can't find this chile, chipotle chiles could be a good substitute. 
Ingredients
½ cup morita chiles (they can be pretty spicy so you can adjust the quantity)
½ kilo tomatillos (1 pound or 8-10 pieces)
4-6 garlic cloves
1 tablespoon salt
1 tablespoon vegetable oil
Directions
Rinse, pat dry, and de-seed the chiles (this lowers the spice level, if you want, you can leave the seeds in for an extra kick), roast them on a hot comal or in a pan with no oil or anything else, just move them around until they become fragrant and change color to a slightly darker tone. Roast the garlic cloves in the same pan. Don't peel them so the skin protects them from burning.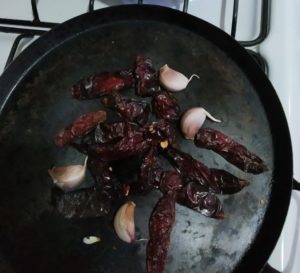 Peel and rinse your tomatillos, boil them in water until they change color and become a bit soft.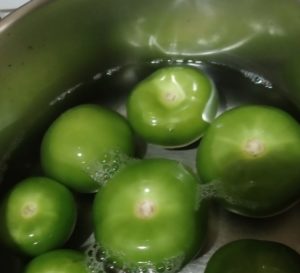 Peel the roasted garlic and add to a blender with the chiles and tomatillos. Do not add any water, the tomatillos have enough moisture already. Add salt to taste and blend everything.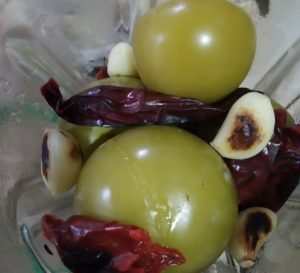 Add oil to a pan and once it's hot, pour the salsa in. Cook for about 10 minutes at low heat and correct the seasoning if necessary. It can be used hot or room temperature.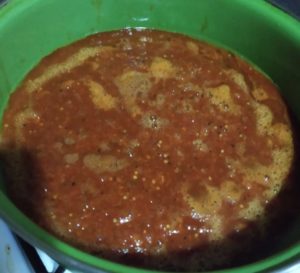 Salsa verde cruda (raw green salsa)
As the name implies, this salsa is not cooked, so it has a very fresh, tangy flavor. It's great for adding a refreshing note to heavy or fatty dishes like fried empanadas and quesadillas, carnitas and other pork-based preparations, or to enhance light, summery things like ceviches and tostadas.
This is probably the easiest salsa recipe, but again, you could modify it to your liking by adding other ingredients or even using different kinds of chiles.
Ingredients
½ kilo tomatillos (1.1 lbs)
½ cup serrano chiles (for a milder version, reduce the amount or use jalapeños instead)
1 tablespoon salt
¼ white onion
½ cup cilantro
Directions
Wash all the ingredients. Chop tomatillos into halves or quarters to make them easier to blend. Chop chiles into 1-inch pieces and put into the blender with the tomatillos and salt. Do not add any water.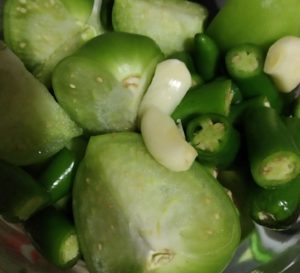 Blend until smooth and set aside. Finely chop the onion and cilantro, add to the salsa and stir to combine everything. Taste and add more salt if necessary.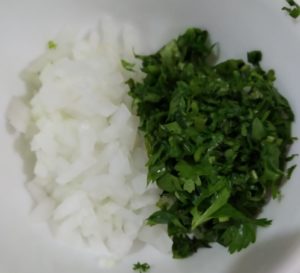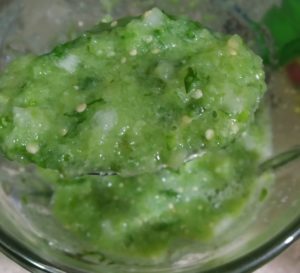 Nicolás García is a culinay guide with Eat Mexico. Over the years, Nicolás has worked in several restaurant kitchens specializing in Mexican, Italian, French, and Asian cuisine.