Three Places to Eat Chiles en Nogada in Puebla
Most people might think the most famous dish in Puebla is mole poblano. But equally as famous in Mexico are chiles en nogada, a baroque, complicated dish comprising roasted poblano chiles stuffed with a sweet-and-savory picadillo, topped with a creamy walnut sauce, and studded with pomegranate seeds.
According to local legend, the nuns of Puebla's Santa Mónica Convent created the chiles en nogada in 1821 to commemorate the visit of Agustin de Iturbide, who arrived in Puebla with his Army of the Three Guarantees on his Saint's Day. Mexico was just coming together as a nation at the time, so what the Augustinian nuns wanted the dish to represent were the colors of the Mexican flag: green from the chile, white from the walnut sauce, and the red from the pomegranate.
This may not actually be the true origin story, however. The dish may have evolved from different family or local recipes, as there's no trace of chiles en nogada in any book, official document, or nuns' cookbook from the viceregal period. (This is according to two books I read, Mujeres Construyendo Un Mundo: Las Recetas del Convento de Santa Mónica by Rosa María Garza, and Orígenes de la Cocina Poblana by Jesús Manuel Hernández.)
Whatever the origin story may be, chiles en nogada depend on seasonal ingredients that are at their peak only one time a year—poblano chiles, ripe walnuts, the sweet-and-crunchy panochera apple, sweet-milk pear, and the small, hard criollo peach. They're all products of the region located between Huejotzingo and Calpan, two towns very close to Puebla city. The best time to eat them is in the summertime, which is why chiles en nogada season officially runs from July 13th to September 30th. (These dates change every year, only by a few days.)
There are countless recipes and endless places to try the dish that is considered practically as baroque as the city. Here are three of my favorite places to eat chiles en nogada in the city of Puebla, from my perspective as a local born and raised there.
#1: Fonda "Cemitas Robert y antojitos Lulú" at La Acocota Market.
16 Norte 605, Centro
No website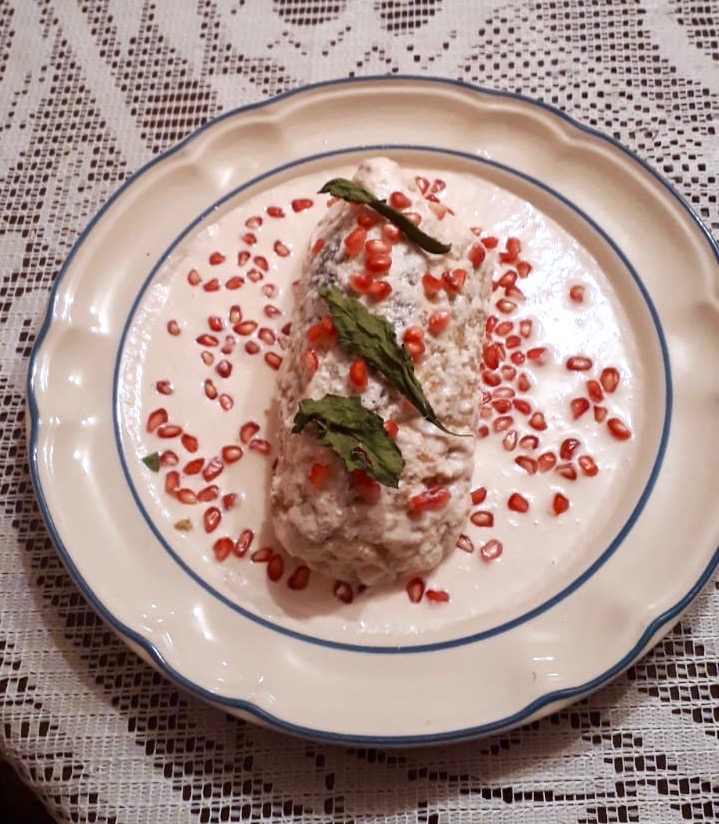 Located in my favorite market in Puebla city, this place has a special charm. Among the stoves and clay pots, you can always smell the enticing aroma of home-cooked food. Chiles and nogada are served Saturdays and Sundays, and Karla González is the expert who prepares them—Karla and her family have been serving homemade food for over 40 years in this market.
The chiles are truly from another world. Karla learned the recipe from her mother, who in turn learned from her mother, and her mother before her. Karla and her mother carefully buy all the fruit themselves, ensuring that it's ripe enough, so it won't add bitterness to the picadillo. She swears by frying the pear first in her picadillo, because pears have a harder consistency than the rest of the fruit and this means the remaining fruit won't be too mushy in the end.
The resulting dish looks exactly as it should: a chile covered in a pool of sauce that drains right along the edges. And it smells like something your expert-cook family member would have made.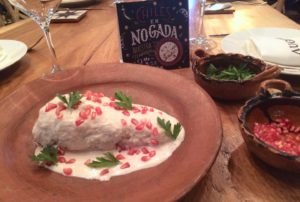 #2: Augurio
Av. 9 oriente # 16
Opened in 2017 by celebrated local chef Ángel Vázquez, Augurio focuses on rescuing the family recipes of Puebla and presenting them in a creative, high-end way. That said, the vibe is relaxed and welcoming, without being too stuffy. The chiles en nogada recipe, according to the chef's father and restaurant owner Don Ángel, comes directly from the cooks of Santa Monica and Santa Rosa convents. All ingredients are sourced locally in Pueblan vegetable gardens, which is what gives this dish a true local flavor.
The picadillo has the requisite peach, apple, and pear, plus almonds and biznaga, a candied cactus— it's a unique and original touch that you don't see often in Puebla city. The nogada, meanwhile, has a creamy mix of walnuts, goat cheese, a pinch of cinnamon, and a touch of sherry. Don Ángel recommends pairing it with a glass of Mexican wine from the Valle de Guadalupe; I like Cosecha Tardía from Casa Madero, which has just the right acidity to match up to the chiles.
#3: Mesón de Santa Teresa
Av. 8 oriente #203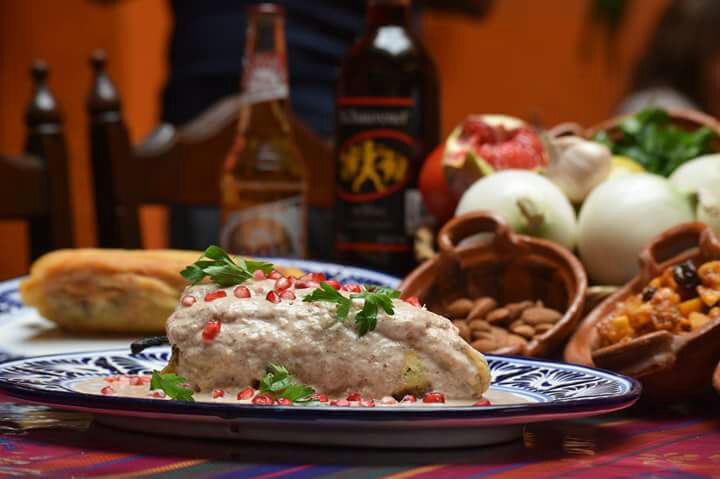 Located in the center of the city, this four-year-old restaurant specializes in traditional Poblano food. The owner, Juan Ramón Álvarez, sources all of the ingredients himself at the local Central de Abastos Market. He says it's important to him to buy directly from small producers, whom he's been buying from for years.
At Mesón de Santa Teresa, once the ingredients are ready, the chiles are toasted first—it adds a smoky, charcoal-y flavor that reminded me of my grandmother's cooking. When the chiles are done, the cooks prepare the seasonal fruit and minced meat, and then drape the chile with the nogada sauce, pomegranate and a little parsley. Unlike Augurio and the fonda at La Acocota market, the atmosphere here is cozy and warm, like you're dining in someone's home. Located in a 17-century colonial mansion (known in Spanish as a casona) this mid-range restaurant is perfect for a casual lunch with family.
When eating this dish, Don Juan Ramón says it's best to pair it with some local poblano cider, produced in the same area responsible for the sweet panochera apple used in the picadillo. (This region is located between Cholula, Huejotzingo and Calpan.) It's a great final touch for its subtle sweetness, and delicate acidity and fizziness.
María del Mar is an Eat Mexico tour guide in Puebla.