Tortilla Soup
This comfort food is commonly served in Mexican homes as well as in taquerías. What I love about this recipe is that it calls for tortillas that have been dried out over the course of a few days, so it supports the cause for avoiding food waste. Generally, each person has their own special version of this soup, starting with this basic recipe and then adapting in their own personal preferences. For example, if you want it spicy you can add dried chiles or if you like chicharrón (pork rinds) these can be added as a topping. I feel this soup is a perfect first course because of all the combined textures it offers. The soup is meant to be a little thick and rich, the fun part is adding optional toppings according to taste, and in Mexico we certainly love our toppings!
So without any further ado, here is your classic Mexican Tortilla Soup:
Makes 4 servings. 
Ingredients:
For the soup:
4 corn tortillas
1 teaspoon of vegetable oil
3 tomatoes
½ a small onion
2 garlic cloves
1 chile guajillo (optional)
4 cups of chicken or vegetable broth
Salt and pepper to taste
Garnish and toppings:
8 corn tortillas
1 small avocado
4 tablespoons of crema (or sour cream)
4 tablespoons of queso fresco (crumbly cheese)
4 tablespoons of fried chile guajillo or other dried chiles you have
Directions:
Start off with the garlic. Don't peel it, just punch some holes in it with a fork. I do this because the skin protects it from getting burnt and the holes will let the vapors easily out.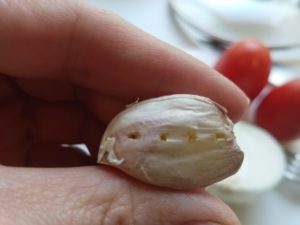 Cook the onion, tomatoes and garlic with oil in a pan or in a comal if you have one, use medium-low heat and be patient during this stage. It takes about 20 minutes for the vegetables to cook. Allow some caramelization to happen. You can even do this step using an oven. If you want your soup to be a little spicy, this is the moment to add the chile guajillo (mulato, ancho or any dried chile that is not overly spicy) without its seeds and veins. Cook the chile for a very short period of time, just enough so that it changes its color a little without burning it.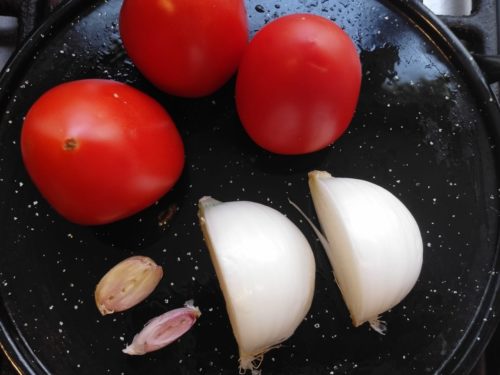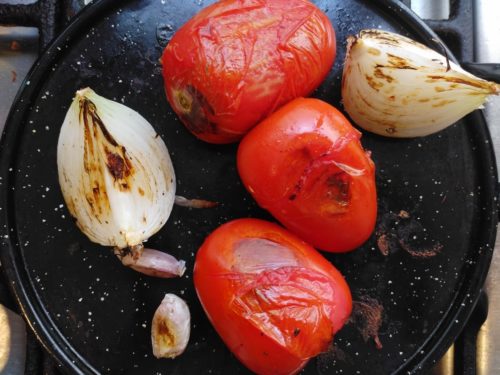 Once the vegetables are cooked, peel the garlic and put everything in a pot, add the broth and 4 tortillas cut in quarters, with salt and pepper to your taste. Tortillas are added to give the soup a tortilla flavor, but they're also used to thicken the soup. In french cooking, it's common to use a "roux" to thicken soups and sauces. The "roux" is prepared by cooking the same weight of butter and wheat flour together. Cajun and creol cooking also use "roux" but instead of butter, oil is used. The tortillas serve the same purpose as a "roux".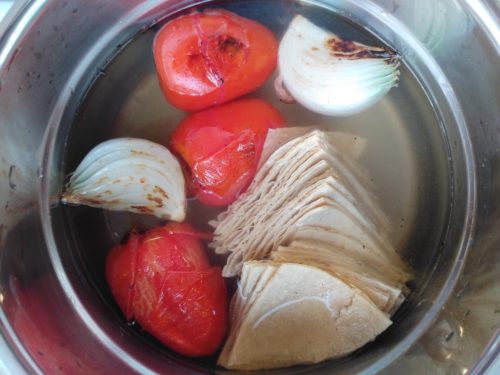 Simmer for 30 minutes. Meanwhile, cut the other 8 tortillas into strips, you can fry them or bake them with a little oil and salt to make them crispy, set them aside.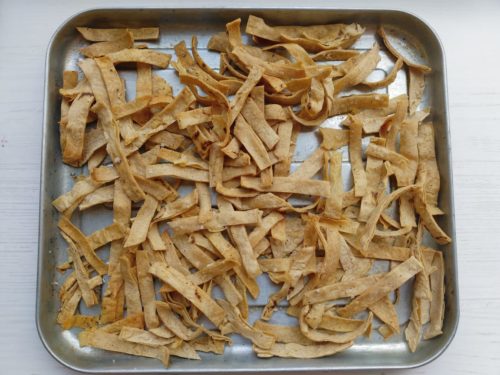 Blend all the ingredients from the pot together. Be very careful while blending hot liquids, only fill your blender half way or less and do multiple batches as needed. Start slow, gradually increasing the speed.
Once done, pour the soup back into the pot and simmer for 5 more minutes. Check the seasoning and add more salt or pepper if needed. You'll note another slight change in color from red to orange at this point.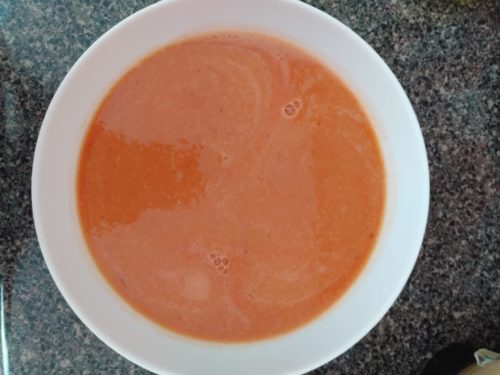 Prepare all the toppings that you want. I highly recommend the following: chicharrón, sliced avocado, crema, queso fresco and fried guajillo chile or any other dried chiles you have. For the fried chile: cut it into thin slices (scissors work very well for this) and fry it with oil in a pan. Wait for the oil to heat, you can use a very small amount, just enough to cover the slices. Once you've reached the desired temperature, fry quickly. When using dried chiles, they only take a few seconds to cook, you'll know when they're ready because they'll puff a little. Try not to burn them because they'll turn bitter.  
Now it's time to serve the soup. In each bowl, first serve some of the crunchy tortilla strips, then add the soup and additional toppings and finally, enjoy!
Ariane Ruiz is the Operations Coordinator for Eat Mexico and one of our culinary guides. She is a Mexican food enthusiast with a culinary arts degree. Born and raised in Mexico City.