15 Family-Friendly Activities in Mexico City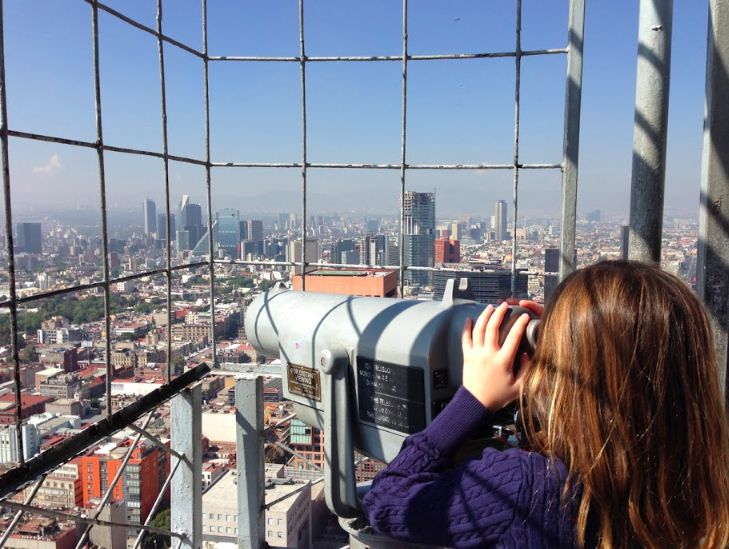 Eat Mexico shares our top family-friendly activities in Mexico City.


Mexico City is not often considered a family-friendly destination but, in reality, this colorful megacity is fantastic for kids. With plenty of parks and playgrounds, museums, and some of the best churros in Mexico, there are plenty of attractions, flavors, and experiences for children to enjoy . In anticipation of our NEW upcoming family-friendly food tour, Eat Mexico is excited to share our top 15 favorite activities to enjoy with your whole family.
---
The Turibus
One of the best ways to get your bearings in Mexico City is with a ride on the Turibus. These double-decker, hop-on-hop-off buses run along four main routes in the capital but the one that is best for first time visitors is definitely the Circuito Centro. This central circuit runs through some of the capital's most interesting and important neighborhoods including the Centro Historico (the Historic Centre), the heart of the Aztec empire. There are 16 stops in total and you can jump on and off wherever you like. Bus tickets come with a headset so you can listen to the history of the capital as your roll along – there's even an audio channel dedicated to kids.
Torre LatinoAmericana
Another way to find your feet is with a bird's-eye view of the megacity from the top of the Torre LatinoAmericana. For the longest time, this was the tallest tower in Mexico City and even though that title has been taken away, it's still one of the capital's most important landmarks. Take an elevator right to the top and the climb the final flight of stairs to reach the viewing platform on the 44th floor. It's a great way to see just how huge this city really is. Visit on a clear day and you'll spot the magnificent volcanoes of Popocatépetl and Iztaccihuatl, too.
Address: Eje central No.2, Centro
Churros y Chocolate at El Moro
From the dizzying heights of the Torre LatinoAmericana to the wonderful delights of El Moro, home to some of the best churros in town. This characterful churreria is open 24-hours a day selling freshly baked churros and mugs of rich hot chocolate. This family-owned business has been operating since 1935, when it started out as a cart selling churros in the Zócalo. Today Churrería el Moro has various swish-looking outlets in swankier parts of town, but it's the original cafe in the capital's centre that we think is best.
Address: Eje Central Lázaro Cárdenas 42, Centro Histórico
Castillo de Chapultepec
Taking center stage in El Bosque de Chapultepec, the vast green space at the heart of the city, is El Castillo de Chapultepec, Chapultepec Castle. The castle has had something of a turbulent history and has been a royal residence, military academy and presidential home. It's currently playing the role of Mexico's National History Museum. The castle rooms are dedicated to various periods in Mexican history as well as showcasing the history of the castle. It's a fun place to visit with kids with good views, space to roam and workshops held during holiday periods.
Address: Section 1, Chapultepec Park
Zoológico de Chapultepec
Just below El Castillo is Mexico City's zoo, which first opened in 1924. There are some 2,000 animals housed here in seven different sections that include Desert, Tundra, Tropical Forest and an Aviary. An insectarium sits at the zoo entrance where kids can hold giant tarantulas and learn about butterflies. At the centre of the zoo is a serpentarium, home to plenty of slithery snakes. Incredibly, the zoo is free to visit although there is a modest entry fee to see the bugs and the snakes. The zoo gets very busy at weekends so make sure you arrive early.
Address: Section 1, Chapultepec Park
El Papalote, Museo del Niño
Also located within the Bosque del Chapultepec is El Papalote, an innovative, hands-on museum that is a magical world for kids. It's been recently renovated and is divided into sections including My Body, My Home and Family, My City and the Laboratory of Ideas. Kids can pretend to work in a supermarket, join an archaeological dig, blow giant bubbles, build cities out of Lego and much, much more. Everything has been designed to both entertain and educate and you can easily spend days here. There's also an IMAX theatre showing Spanish movies.
Address: Av. Constituyentes 268 Col. Daniel Garza, Delegación Miguel Hidalgo
Parque Hormiga
This fenced-off playground in Section 1 of the Bosque de Chapultepec has recently undergone a facelift and is now a fantastic play space for kids. There are ziplines and giant spiderweb climbing frames as well as large tire swings and bouncy bridges. It's a popular spot for weekend picnics and there are plenty of tables and benches dotted around the grass. It's very well kept with plenty of space for the kids to run around.
Address: Section 1, Chapultepec Park
Museo Nacional de Antropologia
Home to the world's largest collections of artifacts from pre-Hispanic Mayan civilizations, the National Anthropology Museum is a must-see. Not surprisingly, given its archaeological riches, it's the most visited museum in the country. For children, it's an interesting insight into Aztec and Mayan history, with enough conquests and sacrifice to captivate even the most museum-averse child. Highlights include the enormous carved Sun Stone (also known as the Aztec Calendar), the Jade mask of the Zapotec Bat God and El Paraguas, the square concrete 'umbrella' in the main courtyard that is supported by a single pillar. On the second floor you'll find exhibits detailing the customs and dress of Mexico's present-day indigenous costumes.
Address: Paseo de la Reforma (crossroads with Gandhi), Chapultepec Polanco
Danza de los Voladores
Once you've finished at the Anthropology Museum, head over to the clearing near the entrance to watch the jaw-dropping danza de los Voladores (Dance of the Flyers). Also known as Palo Volador (pole flying), this ancient Mesoamerican ceremony is performed by indigenous Totnac people approximately every half-hour during the museum's opening hours. According to one legend, the ceremony was initiated to ask the gods to end a severe drought. The dance involves five men who climb to the top of a 30-meter pole. From here, four of the five members launch themselves from the top of the pole and, tied with ropes, gently wind their way to the ground. The fifth remains at the top, playing a flute and drum. It's very impressive but not for the fainthearted!
Address: Outside the entrance to the Anthropology Museum
Museo del juguete antiguo
Mexico City has more museums that almost anywhere in the world ranging from the world-famous, such as the Anthropology Museum, to the more quirky, such as the Museum of Antique toys. This ode to childhood was established by Roberto Shimizu, a Mexican of Japanese descent, who started the museum after amassing a huge personal collection of toys. Rooms are filled with some 60,000 items including model trains and plastic superhero figures to dolls, life-size robots, lucha libre memorablia and more. It's a little odd but a lot of fun and the kids will love it!
Address: Calle Dr. Olvera 15, Cuauhtémoc, Doctores
Xochimilco
During Aztec times, the Valley of Mexico was a vast lake system connected by a complex series of canals and waterways, dotted with islands and floating gardens. Today, there is little left of these lagoons and causeways, except if you visit the southern neighbourhood of Xochimilco. Here, you can catch a glimpse of pre-Hispanic and pre-Aztec Mexico as you float along shallow waterways on a brightly colored trajinera (a type of Mexican gondola). Cruising the canals is a very popular weekend activity and you'll spot groups of friends and families gliding along listening to Mariachis, drinking tequila and eating tacos. It's one of the best day's out you can have in Mexico City.
Parque Espana
The leafy neighbourhood of Condesa is a great one to explore with kids. Filled with Art Deco buildings, colorful streets and the circular Avenida Amsterdam (Amsterdam Avenue) it's both characterful and far calmer than many other of the city's colonias. Parque Espana (Spain Park) is one of two lively parks in the area and, with a large playground, it's a fun one for young children in particular. Weekends sees a small, motorised train run loops of the park and the ubiquitous balloon and bubble blowing sellers.
Address: Av. Sonora s/n, Cuauhtémoc, Condesa
Granja Las Americas
The mock farmyard of Granja las Americas (Farm of the Americas) is a gentle amusement park, ideal for younger kids. Children can meet and hold puppies, chicks and bunnies, and then go on a handful of rides. Among the most popular are the race cars, the climbing wall and the zipline. Kids can also learn to cook a corn tortilla or mine for minerals. It's well-run and very safe – adults and children are given an electronic bracelet upon entrance and no-one can leave without the person or people they registered with. La Granja is located next to the horse racing track, Hipódromo de las Américas.
Address: Blvd. Pípila s/n Acceso nº 3, Miguel Hidalgo, Lomas de Sotelo, Hipódromo de las Américas
La Casa Azul
La Casa Azul, otherwise known as the Blue House, is one of the capital's most famous addresses. The childhood home of artist Frida Kahlo, today the house is filled with artwork and personal items belonging to Frida and her husband, Diego Rivera. As you peer into each of the museum's 10 rooms you'll spot everything from photographs and postcards to kitchen implements, letters and Kahlo's paints and paintbrushes. It's a fascinating look into the lives of some of Mexico's most famous artists. Activities for kids are often held on weekends.
Address: Londres 247, Del Carmen Coyoacán
Parque Lincoln
The upmarket neighbourhood of Polanco is like the Beverley Hills of Mexico City; designer shops, high-end restaurants and expensive cars on every corner. In the middle of all this is the very lovely Parque Lincoln, a palm tree-filled space home to a colorful playground. This is definitely one of the nicest playgrounds in town with plenty of climbing frames, slides and swings to keep kids happy. It's guarded and closed at night, which helps to keep it clean as well as safe. It does, however, get very busy at weekends and in the afternoons. And very hot! There is no shade so bring hats and / or sun cream.
Address: Parque Lincoln, Polanco
Looking to taste your way through Mexico City or Puebla? Visit our tours page to see what flavors spark your interest – we can't wait to show you the delicious plates of Mexico!