The Best Kitchenware & Culinary Shops in Mexico City
Mexico City's streets are dominated by food. From tamale carts to taco stands to sweet potato peddlers, you couldn't get away from food here if you tried.
If eating at your favorite fondas and markets instigates the siren tug of making your own tortillas, pozole and cemitas, you'll need to gather some provisions first.
These four culinary stores will set you up with all the hard-to-find Mexican cooking utensils and tools you'll need to make your favorite traditional recipes—or to bring a friend back the perfect culinary souvenir. They also carry must-have universal kitchen staples, with price tags that rival even those found in the kitchen supply stores in the United States.
Here are the places we recommend visiting.
1. Mercado La Merced
If the words "organized chaos" send a thrill through your stomach, Mercado La Merced will be the kitchen supply destination of your dreams. The place isn't easy to navigate, particularly after a fire destroyed much of the central building several years ago, but the vast selection of culinary items and low prices make the journey worth it. You could easily spend hours in the various market buildings, examining stacks of candied fruits basking in clouds of bees; or watching the precise, quick work of the women relieving nopales (cactus leaves) of their prickly thorns.
There are no maps of the market interior, so to find the kitchenware section, which is located south of the Nave Mayor (the main fruit and vegetables building), you'd need to feel okay with some wandering and potentially asking people in Spanish, "Dónde están los utensilios de cocina?"  Luckily most people are very nice and they'll answer back with at least a jerk of the head. (If you still can't figure it out, one of the telltale signs of the kitchenware area are beams of light bouncing off metal.)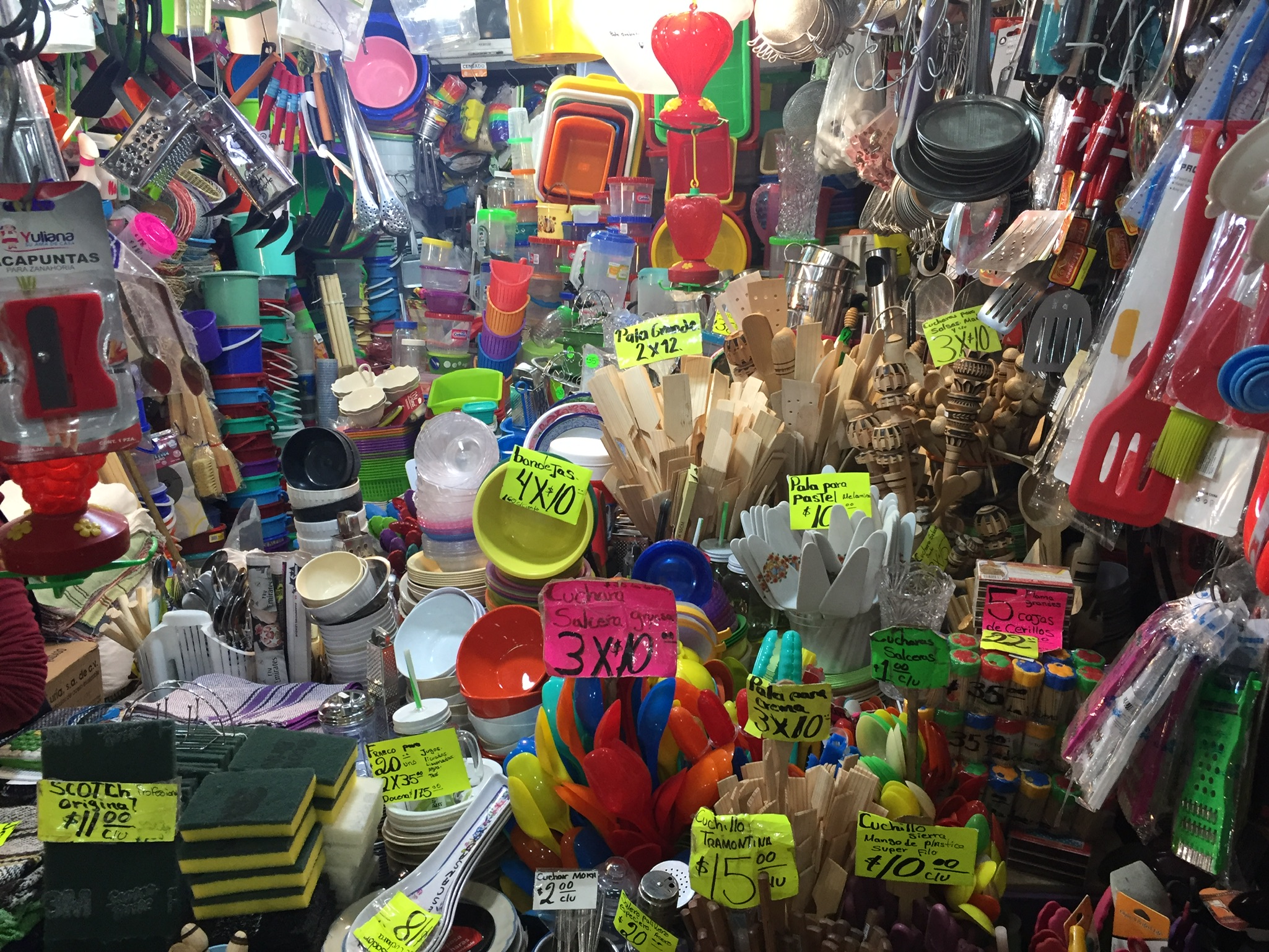 Kitchen/Culinary Items We Love Here
Just as in the rest of La Merced, you'll be inundated with choices — and not simply color, style or size. Some of what you might encounter could include:
Aprons of all colors and sizes
Knives for pairing, slicing and carving
Mesh sieves
More molinillos than you might ever have chocolate to froth
Honey wands (or were those just more molinillos?)
Rolling pins
Baskets
Kitchen towels
Tortilla presses
Comals
Wooden kitchen utensils
Basically anything you'd need to outfit a street stand, including a mobile gas grill
Most of the stalls have been run by the same families for generations. If you don't find what you're looking for, just ask.
The Merced Market spreads across several blocks and encompasses several buildings. You can take the Metro (pink line) to the Merced station and follow the waves of people. Or take a rideshare service like Uber, if you speak a little Spanish and feel comfortable directing your driver if necessary.
Hours
6 a.m. to 7 p.m., Monday through Sunday (hours may differ on holidays); we recommend visiting early on a weekday to avoid crowds.
2. Utilitario Mexicano
This organized, minimalist store in the Juárez neighborhood carries color-coordinated rows of bowls, plates, kitchen utensils and more, all of which are carefully curated by the owner, Enrique Arellano. It is the opposite of the Merced, as far as being a contained, easily perusable space. Shelves practically float in midair.
The kitchen-supply-meets-office-supply store style, with its pared-down, curated offerings could seemingly be found in any warehouse storefront in Brooklyn or Los Angeles. Yet, it's the selection and style of each item that separates it from its USA counterparts.

Kitchen/Culinary Items We Love Here
At Utilitario Mexicano, you can find rows of tableware and dishes in muted earth tones and pastels; earthenware painted in bright pops of color, and folk art tchotchkes to take home and place on your desk, to transport you back to vibrant Mexico (if only for a moment).
You'll also find:
Stacks of color-coordinated dish towels, molinillos, mortar and pestles, notebooks, rulers, maps and cactus figurines.
Comals of all shapes, sizes and materials line the pegboard walls, next to bottle openers, cheese graters and funnels.
Juárez is an easy trek from just about anywhere near the Historic Center. It's walking distance from La Condesa, Polanco and Roma (Central, Sur and Norte). Or, hop in an Uber (about $50 MXN from most points nearby). If arriving by metro, take the train to the Cuauhtemoc stop.
Hours
Monday through Sunday, 11 a.m. to 7 p.m.
3. FONART
Mexican arts and crafts can be found at markets and sidewalk stands across Mexico City. And while Parque Allende in Coyoacan and La Ciudadela in the Historic Center are good one-stop-shop places if you're on a budget, it's worth visiting FONART too, as the quality is higher and the selection more varied. These state-run stores feature artists from many states across Mexico—they're treasure troves of ceramics, textiles and handicrafts.
FONART has several locations in Mexico City, but the biggest one, and the one we like best, is on Patriotismo in the Mixcoac neighborhood. Don't be alarmed by armed security standing guard by the register; that's just par for the course here. Pieces start at around $50 MXN for smaller mugs and cups; complex textiles and large pieces of furniture can run several thousand pesos.
Kitchen/Culinary Items We Love Here
We love the varied styles of ceramics on display here—you can find mugs, high-quality Mexican dishware sets, decorative serving bowls in various styles and colors, beautiful small bowls for salsas, and clay pots and pitchers of different sizes. If you're open to ship things internationally, you can also find upscale furniture pieces in back—sometimes you can stumble on things like a carved wooden trastero (traditional shelf for displaying dishes) or cucharero (a shelf for displaying wooden spoons). On our recent visit we even found a handmade Mexican toy kitchen, complete with tiny blue peltre sink.
You'll also find decorative artesanía, such as Dia de los Muertos statues and árboles de la vida.
FONART's Patriotismo location also dedicates a big space to textiles, including clothing, placemats, and pillow covers. And beyond culinary items, you can pick up some nice jewelry while you're at it, too.
Take the metro to the Mixcoac station, or use a taxi or rideshare. The store also has a small parking lot available for customers.
Hours
Monday through Saturday, 10 a.m. to 7 p.m.; Sunday, 10 a.m. to 4 p.m.; closed on national holidays.
4. Ven a Mi
Ven a Mi is a chic combination of FONART's eclectic arts and crafts and Utilitario's heavily curated collection of kitchenware. This is the spot to hit when you want to return home with items that aren't just utilitarian — but ones that tell a story.
Everything here—from the Aztecan rain cape made of palm leaves, to the simple wooden spatulas—have been added to the inventory with almost as much thought and precision as blending a perfectly balanced mole. Owner Blair Richardson, an American expat and owner of MiniSuper Design Studio, spends her free time traveling the Mexican countryside, purchasing one-of-a-kind items crafted by local artisans.
The best part about stepping into the tiny shop is that you could never "expect" to find anything. The inventory consists only of what Richardson has returned with on her most recent journey.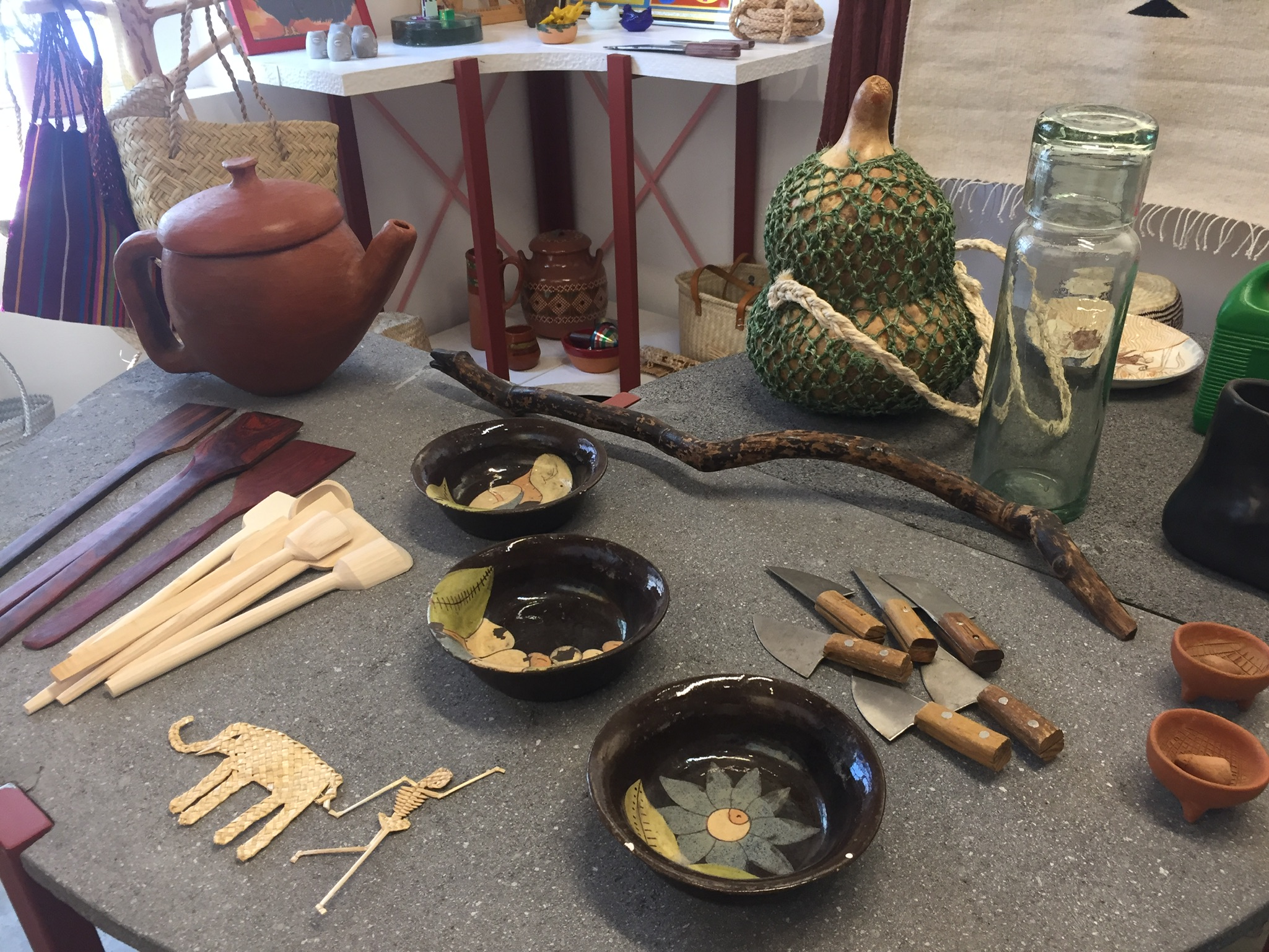 Kitchen/Culinary Items We Love Here
You might just as easily find handmade soy candles as you would handcrafted molinillos and Dia de los Muertos figurines. That said, some staples do remain constant within her store.
On a recent visit, we loved:
A plastic record player from the 1980's that slowly spun Mexican standards.
A simple comal, tucked away on a somewhat incongruous shelf. Richardson says they're the most popular items in the store. "Mexicans use these for basically everything," she explains. "The question is not, 'What you can use them for?' but what can't you use them for?"
A beautiful small clay pot with raised handles, perfect for cooking small amounts of beans.
Getting Here
The clandestine feeling you get when entering the gallery through the side alley is all part of the fun here. Take the metro to the Sevilla stop. (Address is available by contacting the owner directly.)
Hours
By appointment only. To make an appointment, send a direct message to @venami on Instagram or email blair@minisuperstudio.com.
And if you don't want to do all the cooking in the kitchen yourself, book a tour with Eat Mexico and enjoy dinner on us!