Our top 5 selection of Pan de Muerto in Mexico City
This year, "pan de muerto", the special bread made for the Day of the Dead celebration, seems to have arrived well in advance, however, we wanted to wait for the date to get closer to write this review and savor it along with the preparations for the Day of the Dead altar. The smell of marigolds and mandarins combined with the flavor of the "pan de muerto" indicates that soon, even for just one night, we will welcome our loved ones back with the feast they deserve.
Here are 5 recommendations that when we tried them, made us forget the hustle and bustle of daily life and left our soul and body satisfied.
Costra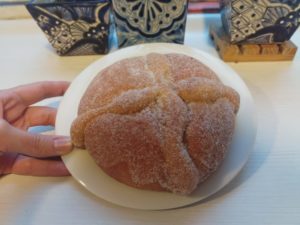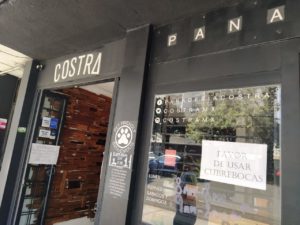 If what you are looking for is a very classic flavor and a smooth texture, this bread is ideal. It has an unquestionably marked orange blossom flavor, which is clearly perceived since the bread comes out of the bag and the aroma pierces the air. Although it does not present any innovative feature, it stands out for the high quality of its ingredients and how well it is executed.
Price: $ 40 
Avenida Universidad 371, Narvarte Poniente
Instagram: @costramx
Tout Chocolat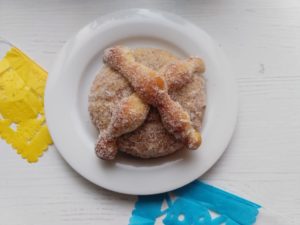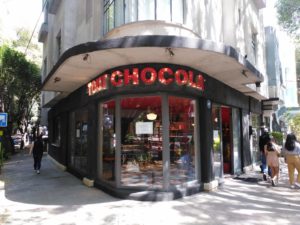 This year's proposal from chef Luis Robledo is a "pan de muerto" covered in sugar and walnut that contrasts very well with the flavor of the orange blossom. Its texture is a little denser than other "panes de muerto" since it is made with brioche dough. This unique bread is already a delight on its own, however, when combined with a rich, hot chocolate meticulously prepared at the coffee shop, it elevates the experience even more. Our recommendation is to order the Mexican chocolate which is 66% cacao.
Price: Bread $ 45 and chocolate $ 62
Amsterdam 154, Condesa Racecourse
Instagram: @tout_chocolat_cdmx
Tierra Adentro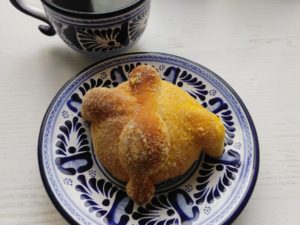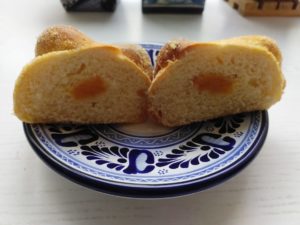 These pieces are smaller than those of other places and have the characteristic of being stuffed with pumpkin and pixtle. Pixtle is the mamey seed, and if you've never tried it, this is an excellent opportunity to do so. Pixtle is traditionally used in drinks as it is very aromatic (reminiscent of almond or Amaretto) and we love the popularity it is gaining in contemporary cuisine. Mexican cuisine is characterized by taking advantage of everything it has at hand and what better way to do it, than by using the seed of a fruit.
This rich and well-prepared filling has the hallmark of Tierra Adentro's magnificent cooks.
Price: $ 15
Av. Nevado 112, Portales Sur, Benito Juárez
Instagram: @tierraadentro.cocina
Panadería Rosetta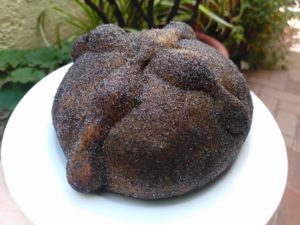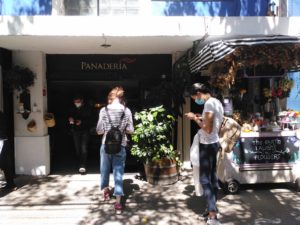 This bread was the most unique — from its appearance to its taste. It is completely out of the ordinary as it is not so sweet and has a marked citrus flavor. It gets its black color because it is covered with sugar and totomoxtle ash (the leaves that cover the corn cob).
If you want to avoid the wait, we recommend that you place and pay for your order before going to the bakery so that you can pick it up quickly.
Price: $ 65
Havre 73, Juárez
Instagram: @panaderiarosetta
Joe Gelato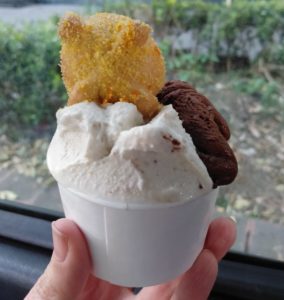 Going to Joe Gelato always represents difficult decisions since all its flavors are very attractive. However, this time deciding on the "pan de muerto" gelato was very simple. This gelato captures all the essence of these dates and is also decorated with a mini pan de muerto with marigold sugar.
Price: $ 60
Calle Versalles 78, Juárez
Instagram: @joegelatomx
These were our selections for 2020.  We enjoyed them in the company of friends, through an online call since we are still in complicated times because of COVID.  Even if our present situation worldwide is challenging, we strive to keep our traditions alive and the human connection which keeps us emotionally healthy.  In your opinion, which "panes de muerto" do you recommend? 
Ariane Ruiz is co-owner of Eat Mexico and a gastronomic tour guide. Eat Mexico's purpose has always been to celebrate the popular food that Mexico City residents love and shine a light on the people who cook it. We offer small, curated food tours to connect with Mexican Food and culture on a deeper level. 
¿Deseas leer este post en Español?