Meet the Vendors: Doña Rosa, Master Tlacoyo-Maker
One of Mexico City's greatest chefs sits on Calle López in the Centro Histórico, spending most days in front of a hot comal propped up on the sidewalk. Her name is Doña Rosa, and she makes fresh tlacoyos and quesadillas daily. At Eat Mexico we've been visiting her stand for almost 10 years, and not just because we love her personally—it's also because her stand is the best there is.
There are several tlacoyo stands on Calle López run by women. What makes this stand so special? The flavor, for one. Doña Rosa's stand has the best-tasting, fluffiest, blue corn masa around. And she is dedicated to her passion and her family's tradition. Doña Rosa's family has been running her business for more than 50 years, starting with Doña Rosa's mother, Silvia Díaz, who also had a street stand in the Centro. She instructed Doña Rosa in the art of tlacoyo- and quesadilla-making, and Doña Rosa still honors that art by nixtamalizing her corn daily in her town of Xalatlaco, in the State of Mexico. She still grinds her beans on the metate, the ancestral Mexican lava rock grinding tablet. You can taste her dedication in each bite.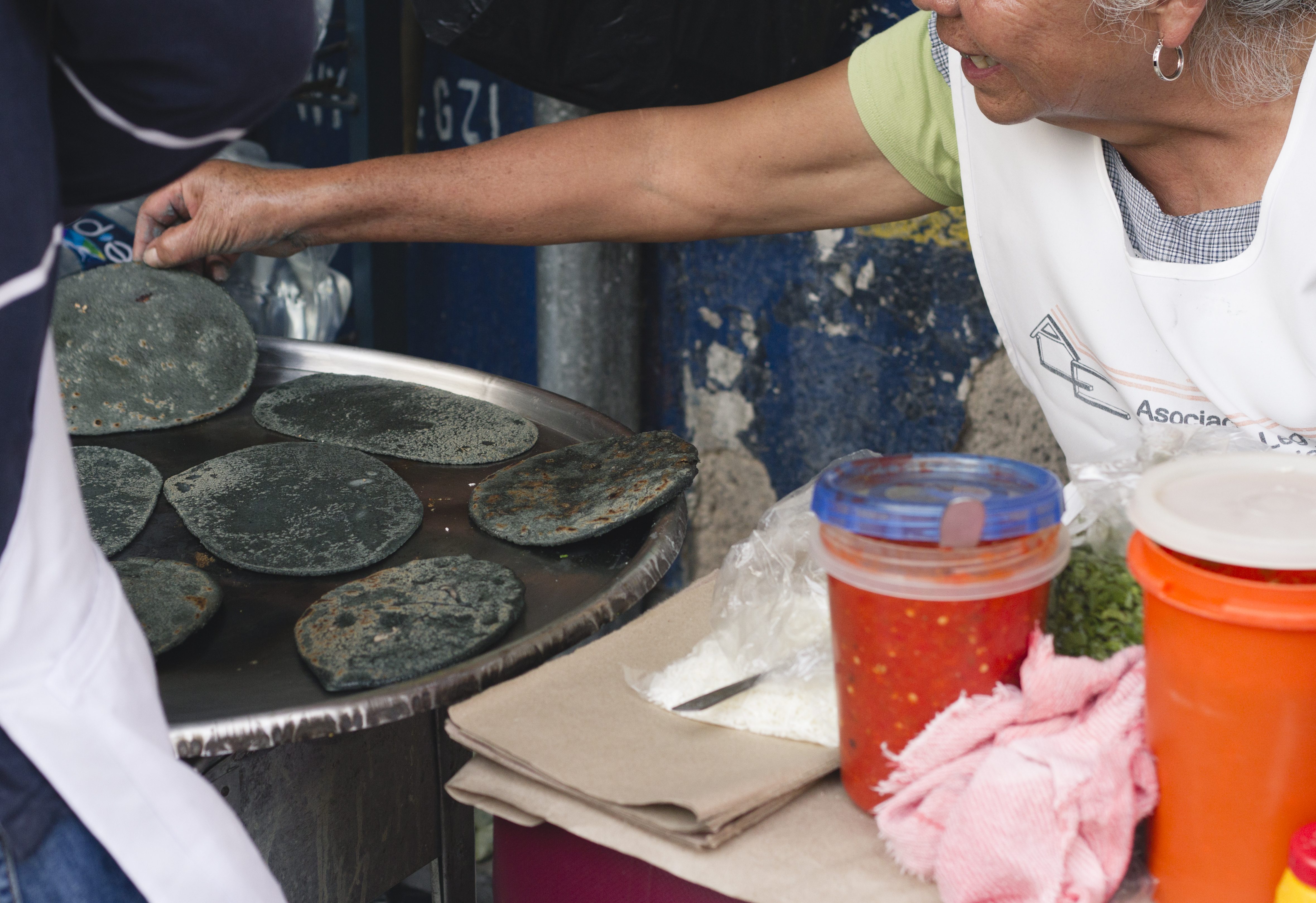 In Mexico, working with corn dough, or masa, is traditionally an oral art form in which daughters learn from mothers, grandmothers, aunts. Right now, Doña Rosa's daughter runs the business with her.
Doña Rosa's stand serves antojitos, the Mexican way to refer to little cravings or small snacks made with masa. Her quesadilla fillings include stewed squash flowers, mushrooms, quelites, and stringy quesillo, if you want. She also has tlacoyos (a thick patty with the shape of a football filled with either fava bean purée, refried beans or requesón, Mexican cousin of ricotta cheese) or for the big eaters, a gordita, translated to small fat lady, a rounded preparation filled with pork cracklings and slightly fried. It's the Mexican arepa, more or less.
I studied culinary arts for four years and work as a professional cook in several kitchens, but I'm not able to make a quesadilla, tlacoyo or gordita the way Doña Rosa and her family do. 
To prepare for each day, Doña Rosa and her family prepare the food in Xalatlaco from scratch. The masa is made daily. The family wakes up at four in the morning in order to arrive to their spot on Calle López at 10:30 am. The stand closes when the food sells out, around 6pm. If you come a little bit late, you will see a ghost spot in the street, like nothing had happened.
Since street food in Mexico City is nor legal or illegal, these vendors will always live somewhat in the shadows. Doña Rosa's stand had an issue with government laws in the past and was forced to switch to another location. Fortunately, people know her, and people know her food. She resists and wants the family tradition to keep on; she says it's a way to be remembered through the food she prepares.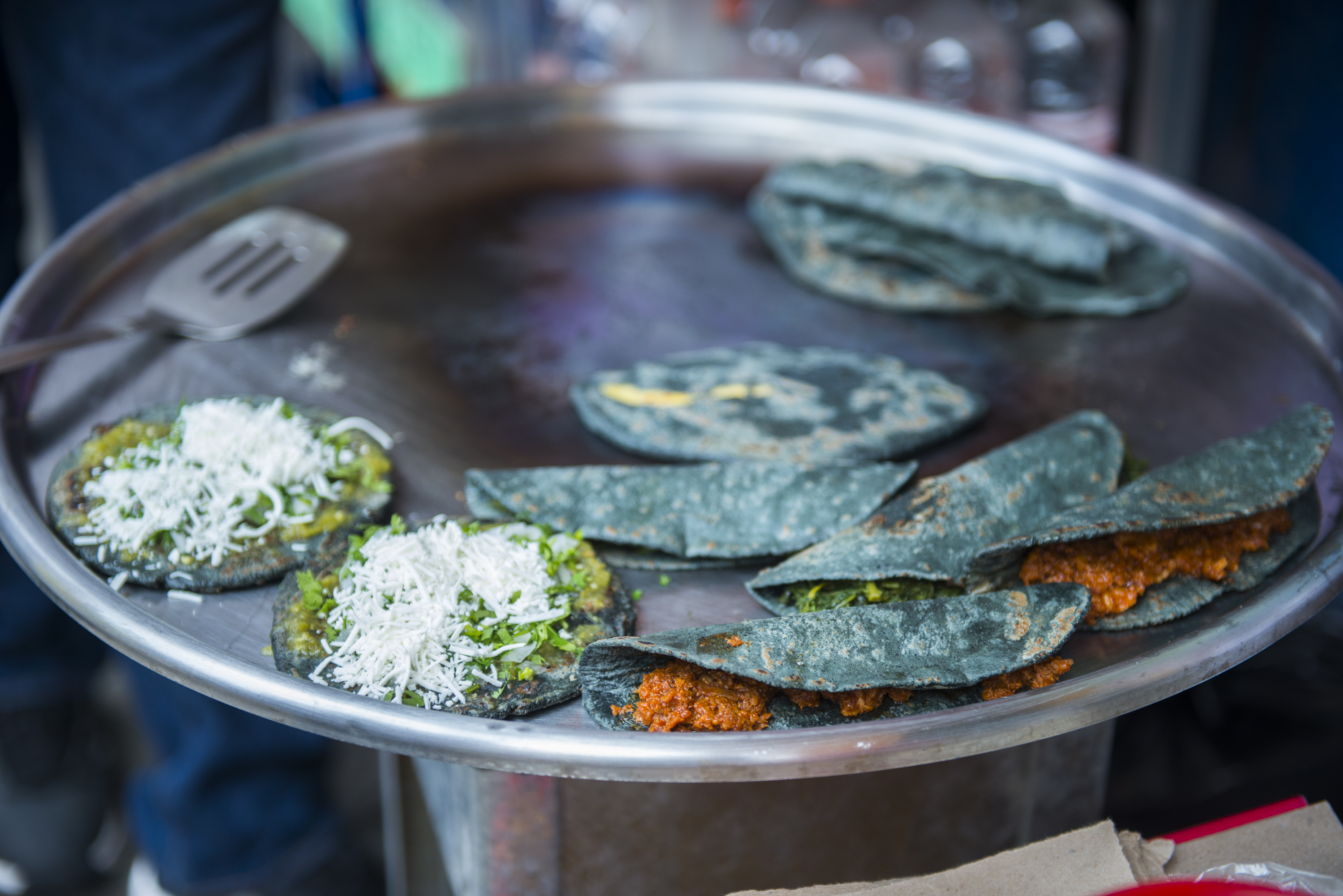 GOING THERE
You can try Doña Rosa's tlacoyos on our Gourmet San Juan Market + Street Food Tour, which is offered daily. You'll not only try our favorite items at her stand, but we'll show you our favorite picks in the neighborhood, and we'll introduce you to the vendors we've been consistently visiting for almost 10 years.
If you'd like to go yourself, she's located on Calle López near the corner of Delicias in the Centro Histórico. She's there daily starting around noon, until food runs out around 5pm. Our top picks are the fava bean tlacoyo, gordita de chicharrón, cheese quesadilla with mushrooms.
Fernando Ballesteros is a culinary guide with Eat Mexico. Learn more about our Mexico City food tours!