Brief history & highlights on corn masa and tortillas in Mexico City
Where to Find The Best Tortillas & Masa in Mexico City
In México, it's not strange to find yourself queuing up outside of a tortillería with a rolled-up salt taco in your hand, to eat while you wait your turn.  Tortillas are the most important part of a meal in a Mexican´s life. But what is the history behind this essential ingredient in Mexican cuisine, and why do we care so much?
The tortillas and tamales we know today in Mexico are the result of centuries of experimentation, starting with the dramatic transformation of corn (Zea mais) spurred directly by humans. It all started with teocintle, a grass from which all corn evolved thousands of years ago.  Some of the oldest corn findings suggest that between 3000 and 3500 B.C., corn domestication was already happening in Puebla and Oaxaca. But it took thousands of years of seed-saving and selective manipulation to get to the corn cobs we eat today. While there's no agreed year in which the tortilla was invented (some date the food to 2500 B.C.), food anthropologists and historians do believe that tamales would have been invented first.
Today, you don't even have to be in Mexico to eat tortillas or tamales. In America, corn can grow in much of the space between Canada and Chile (45° north /40° south). Stone-ground mills and tortillerías have found their way to England, New Zealand and elsewhere. In Mexico City, meanwhile, more and more places are on a quest to make the best tortillas and tamales possible, joining tortillerías that have been perfecting this art for generations.
At Eat Mexico, we like our tortillas all sorts of ways: dipped in lard for a brisket taco, hardened on a charcoal grill or in a comal for a tostada, cut in triangles for totopos, or even just used as an edible spoon. Below we've listed some of our favorite Mexico City spots for corn masa and proper tortillas. We invite the reader to read carefully, but be warned, as there exists an imminent risk of corn tortilla obsession.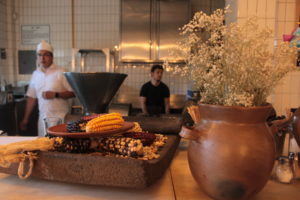 Owned by renowned chef Enrique Olvera of Pujol, which consistently ranks among the best restaurants in the world, Condesa's Molino El Pujol has its own mill and tortilla machine. Here, besides buying masa, you can also buy freshly made tortillas and even snack on an elote covered with a chicatana ant mayonnaise, plus quesadillas, tacos, tamales, and also some unexpected items such as frijoles de olla, corn flavored agua fresca and café de olla. They work with two types of Oaxacan corn (zapoteco and mixteco) and they sell tortillas in batches of 12, and masa by the kilo. Customers can also buy fresh miltomates or jitomate riñon, a wrinkled type of heirloom Oaxacan tomato. The space is tiny and seems to be perfect for a quick visit.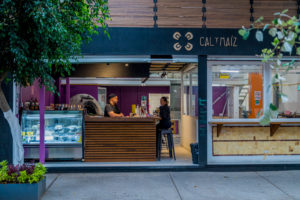 At this Mixcoac neighborhood tortillería, the staff focuses on the origin and quality of the corn, and tries to work with Mexican farmers to purchase lesser-known varieties that may be in danger of extinction. Besides yellow and blue corn tortillas, they also produce flavored tortillas, including cardamom, chile, rosemary, epazote and hoja santa. All tortillas are cooked and flipped by hand; their limestone is also sourced from Puebla. An important part of Cal y Maíz's work is educating the public, so they also offer workshops that teach the art of tortillas, from kernel to the tortilla itself. You can have access to this experience through this link as we are partners with Cal y Maíz for our Saving Mexican Corn workshop. This is one of the few places that will let you experiment freely through this ancestral craft and hone your cooking skills. When you walk in, there's an unmistakable smell of corn flowing through the air.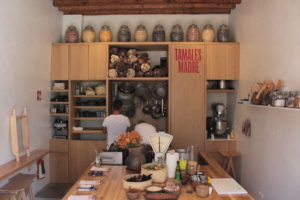 This tiny Juárez neighborhood spot started off selling tamales from a cart. Now, in addition to a space, they have their own corn mill, which guarantees fresh corn dough every day. Around a table that seats no more than 10 people, they offer high-quality tamales made from corn sourced in Oaxaca, Milpa Alta and Tlaxcala. Interestingly, they don't add lard to their tamales, which makes them particularly attractive to vegetarians and vegans. With their own style, they've introduced creative fillings and salsas, and an overall different approach to tamales in Mexico City. They still use the cool cart for events and shows.
Molino de Chiles y Nixtamal "Arces Uno"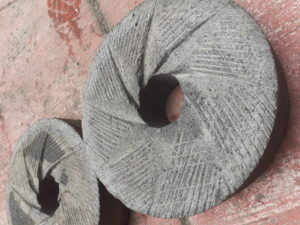 Hidden in the heart of Xochimilco, where I grew up, this place is one of the oldest spots to get corn masa and also to make your own blends of chiles and seeds for mole. The customers here are usually people who prepare tamales or work in tiny tortillerías in the surrounding neighborhood.  Or they're local residents prepping for a party (for family or religious purposes). The knowledge around corn in this place has been transmitted for three generations. The corn is also locally sourced and comes from small producers. The corn is usually on display on the counter right when you walk in. The mill in the back is always working, and the deep fragrance of corn in the room is a reminder of ancient traditions, when rock was used to grind the corn and the people preparing the tortillas would speak to the grains as a sign of gratitude and respect to prevent them from suffering while being cooked.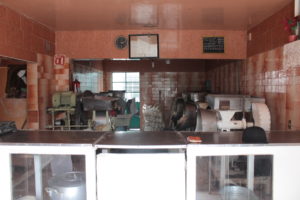 If chiles and corn were not enough, this tiny spot in the town of Santiago Tepalcatlalpan also grinds beans, pinole, chiles, and many years ago even rattlesnakes for medicinal purposes. It's the kind of place where you can still hear the roosters crowing in the back and see the molinero sharpening the stones for the mill. The different mills here have been working for 70 years now, always with a pair of volcanic stones inside to get the best results. Between old stories about the revolution, gold and nahuales, Beni, the owner of this mill will tell you everything about his craft and a little bit more if you stay a little bit longer. In the meantime, a horse will probably pass by the front street and a client will surely enter with a bucket full of corn ready to be ground. In these kind of places, it always becomes very clear that they're not in it for money, but for the love of keeping traditions and corn varieties alive.