Mexico City Travel Guide
What to Expect When Traveling to Mexico City
What is on your itinerary to Mexico City? A stroll weaving through the city's lively markets? A cool evening paired with artisanal mezcal & tacos al pastor? A cultural journey through storied neighborhoods? Or perhaps you want to connect with the iconic flavors of Mexican cuisine. However you choose to sample the culture and cuisine of Mexico City, we've compiled a handy guide of information to prepare you for your visit to our vibrant city.
Mexico City Weather
Mexico City is nestled in the Basin of Mexico and bordered to the south by the range of Ajusco, the highest point in the city and volcanic formation. The city is seated at an elevation of just over 7,300 feet which lends itself to stunning mountain views and a milder climate. Temperatures are cooler than the popular Mexican beaches; January is the coldest month, however, you can expect thermometers in the city to read in the 60s and 70s F (high teens to low 20s C) from November to February. While Mexico City is bright and sunny during this stretch, your visit may be filled with more goosebumps and chattering teeth than you would like if you pack your suitcase anticipating a beach climate. During March & April, the temperature creeps into the low 80s F (mid-20s C).
Mexico City Packing List
CLOTHES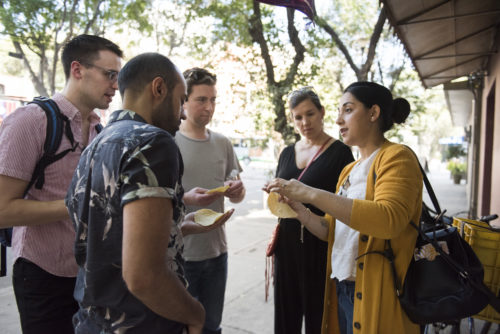 Take a look at a picture of one of our tours out during the day for some outfit inspiration or insight as to what you should take out of your closet and put into your suitcase. 
In Mexico City, it is best to dress in layers. Throughout all seasons of the year, you'll want to layer your outfit, so as the day goes on you can peel off warmer clothes or put them back on if need be. Dinner in Mexico is later than you might think. Since many restaurants don't get going until 9 pm we recommend packing a couple of cardigans or long sleeves to stay warm in the evenings. 
If traveling during the winter months (December-February) it's a good idea to throw a jacket into your suitcase as temperatures can dip down into the 40s F (about 8 C) near dawn and dusk. During the summer months (June-September) we can't recommend a good rain jacket enough. Summer in Mexico City is typically the rainy season, so you want to be adequately prepared for the heavy afternoon showers!
SPACE IN YOUR SUITCASE
The Jamaica Market during the Day of the Dead celebration has brightly colored candy skulls. The neighborhood of Santa Maria la Ribera has delicious artisanal beers & mezcals. The Merced market has treats, sweets, and kitchen goods. With all of the amazing places and markets full of life to visit in Mexico City, you are going to want to share a slice of Mexican culture with your loved ones back home or squirrel it away for yourself.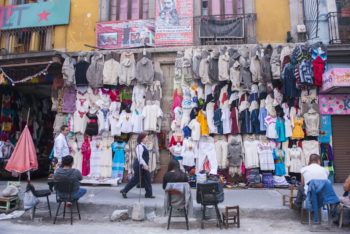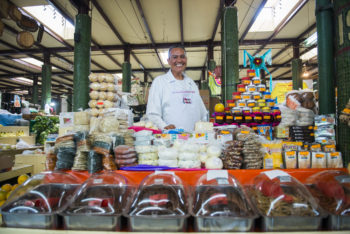 Things to do in Mexico City
EXPLORE THE DIFFERENT BOROUGHS OF THE CITY
Each borough or neighborhood has its own unique flavor. Xochimilco is vastly different than Santa Maria la Ribera. Put on your walking shoes and explore!
SAMPLE AS MANY STREET STANDS & RESTAURANTS AS YOU CAN
To see which restaurants we think are the best in Mexico City this year, read our Mexico City Eating Guide or join us on one of our small group tours.
Getting Ready To Go
EXCHANGING CURRENCY TO PESOS
Take a look at the current exchange rate from your country's currency to Mexican Pesos. That way you have an idea what rates will be when you arrive in Mexico. There are a few different ways to stuff your pockets with pesos, each has its own benefits.
The two main ways are either at an ATM or via exchange houses called Casas de Cambio. While ATMs will typically give you the best exchange rate, they can include hefty withdrawal fees. Casas de Cambio are fairly abundant so you can usually find one without too much searching. They may offer a lower rate than ATMs, but not staggeringly so. You will need to carry cash to exchange. Many banks will not conduct currency exchanges if you are not a client of their bank, so these are your best options.
VISITOR VISAS
Visitors that are residents of Canada, the US, Japan, the UK, countries in the Schengen Area, Chile, Colombia, or Peru do not require a Mexican visa. For more info view the Mexican Immigration website.
"DON'T DRINK THE WATER"
Odds are you've been told this by anyone you tell that you're going to Mexico, but don't let the fear and worry of Montezuma's revenge loom over your holiday. It's not hard to avoid. Just don't drink the tap water. Simple as that. Filtered water is available all over and most hotels will have some in your room ready for you when you arrive. If you plan to take one of our tours, feel free to bring your own water thermos so that we can fill it up for you along the way!
Top featured image by: Juan de Dios Garza Vela